by Tal Alperstein & Julia Turbahn
Monumentalise investigates the act of commemoration in relation to monuments in public spaces. Our research focuses on the relationship between the body and the monument, the embodiment and ephemeral performance of the commemorative act, so to speak. This is in contrast with the lasting monument that aims to overcome time, to connect past, present and future. By rebuilding a memorial's shape using bodies, we develop a choreographic score as a temporal act of commemoration. This act can be 'performed' anytime, does not have a special localization, but rather requires physical effort and concentration to constitute an ephemeral commemorative community.
Performers: Yoav Admoni, Danilo Alexandre, Gali Alperstein, Haya Barshinski, Maayan Boni, Gan de Lange, Anna Petzer, Natasha Rimer, Katrine Staub, Daniel Tsal, Tal Uriel, Paul Walker, Simone Weber, Jala Will; Filming Rabin Square: Nir David Zats; Drawings: Dan Allon.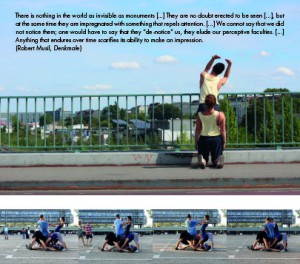 Tal Alperstein, born 1985 in Tel Aviv, Israel, lives and works in Tel Aviv, predominantly in the field of Performance Art. She completed her BFA at the Bezalel Academy, Jerusalem, and is currently working towards an MA in Film at Tel Aviv University.
Julia Turbahn, born 1990 in Ramat Gan, Israel, was raised in Germany, now based in Berlin. She studied Cultural Studies and Dance in Düsseldorf and Sydney and is currently studying Choreography at the HZT in Berlin, and works as a dancer and in interdisciplinary projects.